It might be Christmas Eve but that won't stop us from having our Layout Challenge Friday! This time the challenge is perfectly fitted to the holiday season. No matter if you celebrate Hanukah, Christmas or any other holiday you are sure to have been busy wrapping presents recently. Do you have some birthday wrapping paper lying around? Then this is the challenge for you!
The challenge this Friday is, you guessed it, use wrapping paper on a layout.
Now, let's see what the design team came up with!
Debbie Sherman
using Christmas wrapping paper...it's the paper that is behind the oval.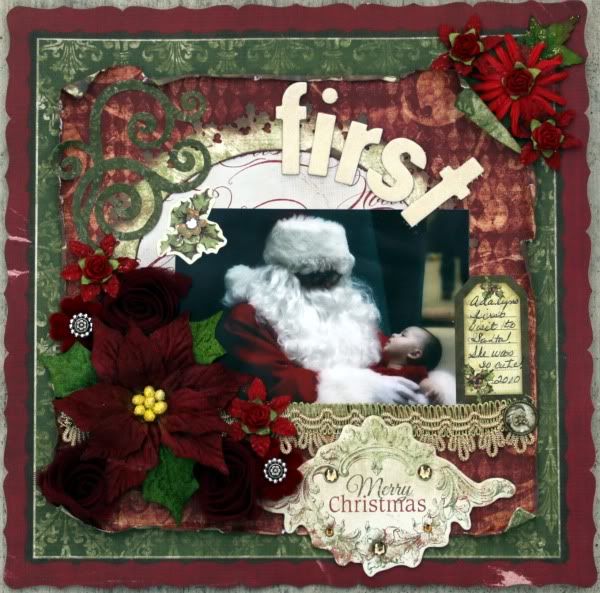 Supplies Used: BoBunny Noel Collection
BoBunny Holiday Die
BoBunny Traditions
BoBunny Ornaments
BoBunny icandy Brads
BoBunnyHolly Berry Wrap
BoBunny Chipboard
BoBunny Chunky Chips Alphabet stickers
BoBunny cardstock stickers
BoBunny combo stickers
BoBunny Glitter icandy stickers

Additional items
Christmas wrapping paper, flowers, border punch, ink for edges adhesive gems,
glossy accents, diamond dust

Mireille Divjak
Mireille used Disney princess wrapping paperfor the Disney princesses in the balloons.
Mireille's daughter wanted a helium balloon so bad but she had massive trouble choosing.
A cute princess balloon or a mickey or minnie mouse balloon? She ended up choosing the Minnie balloon but left the Princesses behind with pain in her heart. :)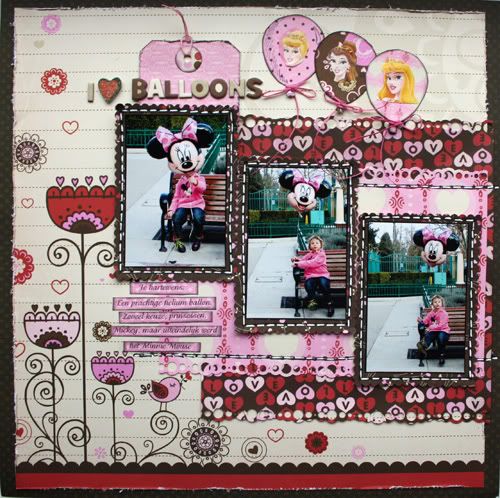 Supplies Used:
Cardstock - Double Dot Coffee Dot
Crazy Love Collection patterned paper , dimensional stickers and chipboard
Kathleen Glossop
Kathleen used left over wrapping paper to make this fun and fabulous background.
Supplies Used:
Bo Bunny Winter Joy 12 x 12 stickers, Bo Bunny Winter Joy cardstock Stickers, Bo Bunny Winter Joy Chipboard, Bo Bunny Winter Joy 3D stickers, Bo Bunny Winter Joy iCandy chipboard, Bp Bunny Noel rubon, Bo Bunny ribbon

Michele Beck
Michele cut out the heart and the bee from the wrapping paper and made some rolls too with 3 square cuts of the wrapping paper. She also used the backside of the wrapping paper to make my scalloped border.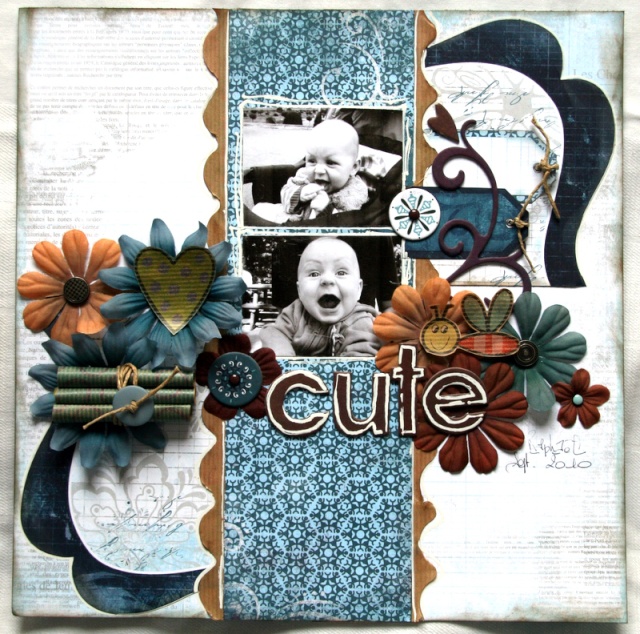 Supplies Used:
Midnight Frost Ice paper, Midnight Frost Stripes paper, Midnight Frost Die Cut, Midnight Frost Cut out, Midnight Frost Chipboards, Midnight Frost Epoxy Brads, buttons, flowers and chipboards alphabet.
Now, it's YOUR turn! We can't wait to see what you create!

You have until January 6, 2011 to finish your layout!! Be sure to link it below!
Now for the winner of the last Layout Challenge Friday! It is so hard to choose winners because all of the layouts are always so outstanding!! It is so fun to see what you all create!
Last week's winners are
Kaori Fujimoto
with these fantastic layouts!!
and
Thank you all for participating in the challenge, and CONGRATS Kaori and Maiko!!!
Be sure to email us your shipping info at thebobunnyblog@gmail.com
to claim your prize!!!
Don't forget you have until January 6 to enter the challenge! Have fun and good luck!
Have a very Merry Christmas!