Do you ever take note of all the things that we all tend to throw away? How about noticing how great the packaging is that our scrapbooking treasures arrive in? If so, this is a post for you! The design team has some great ideas about what to do with the things that normally end up in the garbage pail.
First up is Agnieszka, who had a great idea for how to used packaging after your embellishments are all used. These are so cute that you might want to use the packaging even if you having used the embellishments yet!
Agnieszka's Picture Tutorial on how to make these terrific tags!
Supplies Used: Blast Off Tag: Blast Off 6x6 pad, Blast Off Jewels, Blast Off Combo Stickers, Blast Off Wraps, Bast Off Layered Chipboard
Timepiece Tag: Timepiece 6x6 pad, Timepiece Rub -ons, Timepiece Combo Stickers, Timepiece Wraps, Timepiece Stamps, Timepiece Dad knows best Cardstock Stickers
Carin used the packaging from the layered chipboard and from the clear stamps. She even used the swirly off cuts from her edge punch to make a little heart
Supplies used: Vicki B. Perky, Vicki B. Floweret
Vicki B. 6x6 paper pad, Vicki B. Layered Chipboard (Packaging), Vicki B. Clear Stamp (Packaging), Vicki B. Wrap, Gabrielle Clear Stamp, Coordinating Double Dot Tutu Dot
OtherSupplies: Edge Punches, Butterfly Punch, Liquid Pearls, Stencil
Kathleen used the packaging from the Ad Lib petals and also the sticker negative from the Ad Lib Cardstock stickers.
Supplies Used: Paper: Ad Lib, Alphas: Bo Bunny Chunky Chips, Ad Lib 12 x 12 Combo stickers
Embellishments: Ad Lib 12 x 12 Combo stickers, Ad Lib Jewels, Ad Lib Dimensional Stickers, Ad Lib Chipboard Stickers, As Lib Trinkets, Ad Lib 12 x 12 chipboard, Bo Bunny Chunky Chips chipboard, Ad Lib Rubons, Ad Lib Wraps
Dryer Sheets have never looked so good! Gabrielle used dryer sheets to make the beautiful flowers on her page.
Recycle tip: Don't throw away those pesky dryer sheets after they are done doing their job in the dryer. I created these sheer lollipop blooms by cutting out different sized circles and spritzing them with a little Glimmer Mist. Once dried I simply rimmed them with some glitter glue and popped some Bo Bunny Gems and Trinkets in the center.
Supplies Used: Patterned Paper: Timepiece 12", TImepiece Tick Tock,
Timepiece 6x6 paper pad (diamond patterned paper), Timepiece Noteworthy paper & Transparency, Timepiece Trinkets, Timepiece Clear Stamps, Timepiece Combo Stickers (title), Timepiece Jewels, Timepiece Wraps, Bo Bunny Buttons & Bling.
Michele used the chipboard negative from Ad lib. She added it to a paper and built her page around it using the empty shapes of the chipboards. She also used the package of trim and petals (below and next the picture).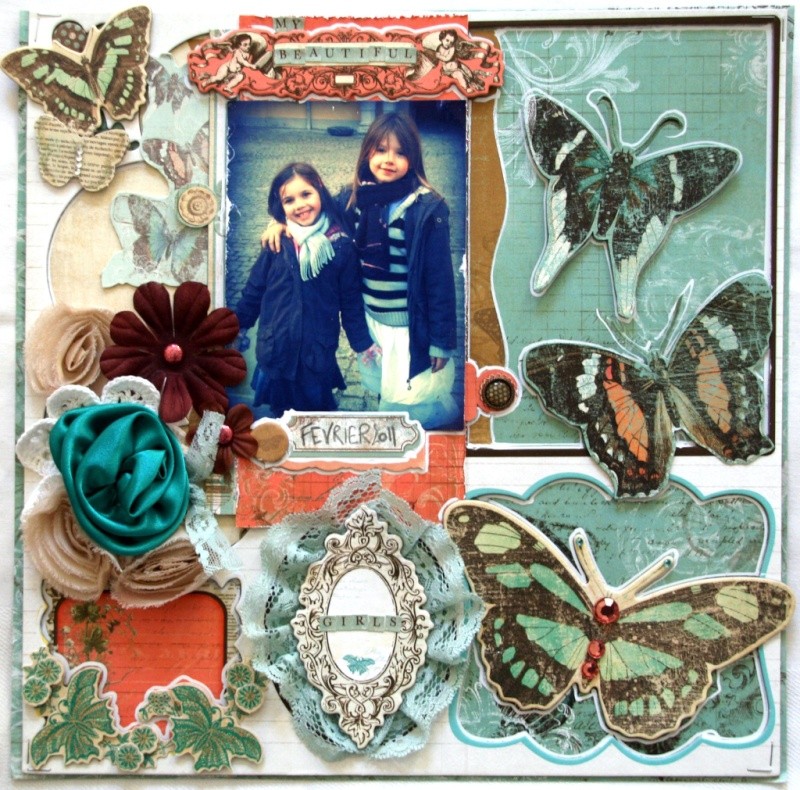 Supplies Use: AD LIB chipboard, Gabrielle Fairest, Gabrielle Flight, Gabrielle Stripe, Gabrielle Unwritten, Gabrielle cut outs, Gabrielle chipboard, Gabrielle jewels, Gabrielle petals, Gabrielle dimensional stickers, Gabrielle brads, Gabrielle wrap, Gabrielle true friends CS stickers, Olivia chiffon rose trim, flowers.
Do you have great ideas about Reducing, Reusing and Recycling? We would love to see them! Be sure to look us up on Facebook and share your layouts there!