Let's Go Back, Way Back!
It's Flashback Friday at Bo Bunny!
The design team has shown us how to use several different collections to scrap our older photos. If you love vintage or just have vintage photo's waiting to find there way into your scrapbooks, this is the post for you!
Let's take a look at what the design team made:
Once a Little Girl
You have to take a closer look at all the details on this layout from
Irene Tan
! Irene used a picture of herself as a little one here.
Supplies Used: Cambridge Victory, Cambridge Crown Die Cut, Cambridge Argyle, Cambridge Chess, NoteWorthy Cambridge, Cambridge Cut Outs, Cambridge iCandy Brads, Charcoal knit petal, Frost Petal, Bo Bunny buttons, Midnight Frost Stamp, CB Swirls & Brackets
Other supplies:
metal embellishment, pearls, distress ink, thread for stitching, vintage lace.
Tara Orr
did such a fantastic job of showing the versatility of the Learning Curve Collection. This is her eldest child as a baby.
Supplies Used: Learning Curve, Learning Curve Learning Curve Dot, Learning Curve Crossword, Learning Curve Recess, Learning Curve Letters, Learning Curve Noteworthy, Learning Curve, Combo stickers, Double Dot Ribbon, Antique Lace Petals
Pappa
Mahlin Wiggur
scrapped a picture of her father. He was born 1933 and passed away 1993.. way too early.. and this layout is a tribute to him...
Be sure to take note of how Mahlin mixed several collections in this layout.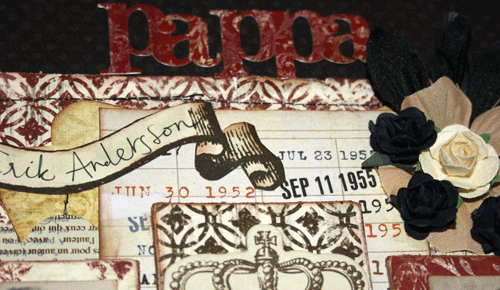 Supplies used: Cambridge 12x 12 chipboard, Cambridge Argyle, Cambridge Post, Cambridge Cut outs, Cambridge 12x 12 sticker, Learning Curve 12x12 stickers, Learning Curve Date due, Noel Cheer, Noel Cut out, Noel Rejoice, Noel 12x12 Stickers, Mama-razzi Flowers, Double Dot Cardstock licorice
Two People Fell in Love
Patti Milazzo
used the brand new Timepiece Collection to scrap this wonderful layout of her parents. Be sure to take a peek at the new embellishments and the layering of them that Patti used!
Bo Bunny supplies used:
Timepiece pattern papers – Unlocked, Moments, Villa, dot, Tick Tock, Timepiece, Numbers, Stripe and Gears. Timepiece Dimensional Stickers, Timepiece Layered Chipboard, Timepiece 12" Chipboard, Timepiece Rub-Ons, Timepiece Combo Stickers, Timepiece Petals, Timepiece Jewels, Timepiece Trinkets
Wishing you a Happy Scrappy Weekend!