It's layout challenge Friday at Bo Bunny! This Friday, we asked the design team to make a layout that shared something that we might not know about them. As always, they came through with some beautiful layouts! It is always fun getting to know each other better!
Your challenge is to do the same thing! Make a layout to share something about yourself that we might not know. Fun right?
Here is what the design team had to say:
I was thinking about this one, and decided to scrap my wedding photo (with only myself in it:o).
I have NEVER scrapped my wedding photo!! And this is probably going to be the first and the last to scrap it!!! It's because I'm divorced!!! But, thought I would keep this photo because this is the best photo of me!!
Supplies Used: Gabrielle Collection Dot, Elegance, Romance, Stripe, Cut Out, True Friend CS Sticker, Trinkets, Jewels, Buttons, Petals, Dimensional Stickers, Layered Chipboard, Wrap, Midnight Frost Stamp
Other Supplies Used: Acrylic Paint, Glitter (Doodlebug), Tim Holtz Grungeboard, Chain, Prima Flowers & leaf, Ink (Brown, Orange, Blue, Black), Lace Paper, Crackle Paint, Pink Paislee Corrugated Elements

This is something that isn't a secret but when it comes up people seem perplexed, anyway, I've gotten mixed reactions, in the end we're happy and yes, we only want one!
Supplies Used: Paper: Ad Lib, Alphas: Ad Lib, Chunky Chips
Embellishments: Ad Lib Wraps, Ad Lib Combo Stickers, Ad Lib 12' chipboard, Ad Lib Cardstock Stickers, Ad Lib Rubons, Ad Lib Jewels, Ad Lib Dimensional Stickers, Ad Lib Layered Chipboard Stickers
Other: My Little Bit of Whimsy ladybird, Jillibean Soup twine
Michele Beck
I Want to See the World
Something you should know about me is that I truly want to see the world, but I am terrified of taking a plane... I hope maybe, someday, I will overcome this fear and have the chance to see some of these amazing places...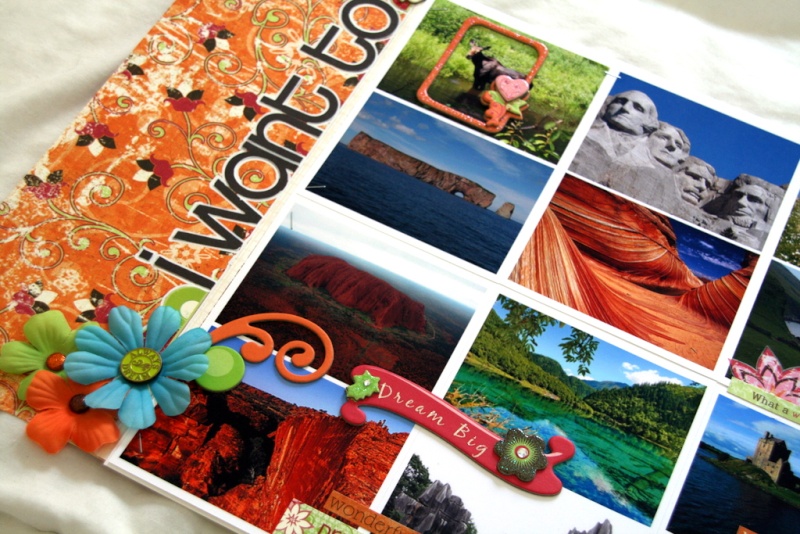 Supplies Used: Vicky B Fabuloso; Vicky B florilicious; Vicky B loverly; Vicky B combo sticker; Vicky B chipboard; Vicky B rub-on; Vicky B wrap; Vicky B brads; Vicky B jewels; Vicky B dimentional stickers; Vicky B layered chipboard; flowers
Jolanda Meurs
Count Your Rainbows, Not Your Thunderstorms
As you can see on the picture I have two boys. One is 16 years and the other 9 years..... In the 7 years between I was also pregnant but it did not work out. Sometimes I am still sad about it....
Supplies Used: Bo Bunny Wild Berry Stripe, Ad Lib Jewels, Ad Lib Icandy Brads, Ad Lib Layered Chipboard stickers, Ad Lib Dimentional Stickers, Ad Lib Combo Stickers, Ad Lib Noteworthy, Ad Lib Chipboard, Ad Lib Cardstock stickers
Are you inspired yet? We were! So NOW, it's YOUR turn! Take the challenge with us! You have until March 9th to link your layout here. We can't wait to see your take!
More good news... all of the layouts for the last Friday challenge were terrific! It is always so fun to see what each of you do with Bo Bunny! The winner of the Sketch Challenge is:
Mandi
Take a peek at this fun and sunny layout! Doesn't it just make you wish that summer would get here faster?
Congratulations Mandi!
Be sure to email us your shipping info at
thebobunnyblog@gmail.com
to claim your prize!!!
Have a fabulous weekend everyone!