Being a scrapbooker, we use to drag our cameras with us everywhere we go. We take tons of pictures, ask our children, cousins, siblings or parents to pose for us as much as we can...But even then, you might sometimes think about what it would be like if you'd get to scrap someone else's picture. A couple of our very talented Bo Bunny DT girls and graphic designers decided to do a photo swap. We all got to scrap a favourite picture from one of the other girls and used it to make our own layouts with. It was so much fun to do. Let's take a peek at all the gorgeous creations the girls came up with.

Kathleen got to scrap with Agnieszka's pictures from her adorable little girl. I just love how she managed to make a bright and springy layout with these winter pictures. And did you also notice her wonderful flower stamping? I think it looks awesome!
Take time to smell the flowers
Supplies used: Paper: Vicky B, Embellishments: Bo Bunny ribbon, Vicky B stamps, Vicky B Wraps, Vicky B Jewels, Vicky B 12" Chipboard, Vicky B Brads, Vicky B Dimensional Stickers, Vicky B combo Stickers, Vicky B Layered Chipboard Stickers, Vicky B Trinkets.
Next is Agnieszka's page. She got to scrap Tomoko's adorable picture. Her layout is stunning and showcases the Vicky B range in such a beautiful way too. I just love her titlework!
Motherhood
by Agnieszka Piskorz

Supplies used: Vicky B Floweret, Vicky B, Vicky B Perky, Vicky B Rub-ons, Vicky B Petals, Vicky B Wraps, Vicky B Buttons, Vicky B Brads, Vicky B Jewels, Vicky B Dimensional Stickers, Vicky B Combo Stickers, Vicky B Cardstock Stickers, Vicky B Chipboard, Vicky B 6"x6" Pad
And Tomoko scrapped my (Romy's) picture. I think she completely rocked the Ad Lib collection by using a lot of stamping, layering and misting on her layout. And take a look at that cute handmade flower, made out of the green Bo Bunny wrap too. Isn't it cute?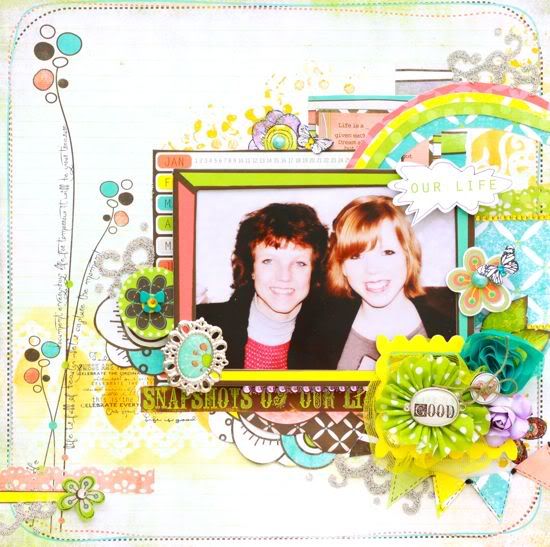 Our Life


by Tomoko Takashi

Supplies used: Ad Lib collection: Ad Lib, Hoopla, Improv, Pebbles, Scribbles, Stripe, This n That, Verbiage, Vertigo, Wild Thing, Cut Outs, Chipboard, Trinkets, Jewels, Buttons, Petals, Dimensional Stickers, Rub-ons, Wrap, Clear Stamps.




Other supplies: Acrylic paint, ZVA bling, flower, stamp ink, white pen, twine fiber, glitter, mask, distress ink.


I (Romy) was the lucky one who got to scrap Kris' picture. In the picture are her son Hunter and his cute Prom date. Don't they make a lovely couple? I had a lot of fun scrapping them.

by Romy Veul

Supplies used: Crazy Love Conversation, Crush, Crush Flirt, Crush Love, Crush Romeo, Crush Sugar, Crush Cut Outs, Crush 12" Chipboard, Crush Pink Ruffle Wraps, Crush Layered Chipboard, Crush Dimensional Stickers, Crush Epoxy Brads.

Jolanda did a fantastic job on scrapping this picture of Misty's little boy. Who said pink and boys don't make a wonderful match? I think Jolanda really proved me that you can definitely use pink for boy pages too. Her layout is simply adorable.
Precious Love
by Jolanda Meurs
Supplies used: Double Dot Licorice Dot, Crush Flirt, Crush NoteWorthy, Crush 6"x6" Paper Pad, Crush 12"x12" Chipboard.
Next up is Misty. She did such wonderful work with both Tara's picture and the awesome Ad Lib collection. I adore her cute colour blocking.
Capture the moment
Supplies used: Ad Lib Improv, Ad Lib, Ad Lib This n That, Ocean Double Dot, Ad Lib Layered Chipboard, Ad Lib Dimensional Stickers, Ad Lib Wrap, Ad Lib 12"x12" Chipboard.

I was completely blown away when I saw this amazing layout, made by Tara. Can you believe she used the Winter Joy collection for this bright and summery layout? Het layout is so beautiful.
Supplies used: Chipboard Alphas Chunky Chips Chocolate, Chipboard Swirls and Brackets Chunky Charms Chocolate, Double Dot Chocolte Dot, Chocolate Ruffle Wraps, Olivia Chipboard, Winter Joy Noteworthy, Winter Joy Magic, Winter Joy Bundled.
Isn't she lovely? Yes, she is! Janis got to scrap Irene's beautiful picture. And, in my opinion, she did an amazing job on it. More bright and beautiful Vicky B goodness on this layout and the text stamping looks so gorgeous too.
Irene
Supplies used: Vicky B collection: Vicky B, Bazzillion, Loverly, Perky, Stripe, Cut-Outs, Wraps, Layered Stickers, Layered Chipboard Stickers, 12"x12" Chipboard, Combo Stickers, Cardstock Stickers, Trinkets, Jewels, Petals, Brads, Midnight Frost collection: Clear Stamp.
Let's see what Irene came up with...she made Luzma's gorgeous picture look even more gorgeous by scrapping it in such a wonderful way. Again a summer layout using Winter Joy...I really love the versatility of this collection.
Thinking of you
Supplies used: Winter Joy, Winter Joy Snow Angels, Winter Joy Stripe, Winter Joy Cut Outs, Winter Joy CS Sticker, Winter Joy Rub-ons, Winter Joy Green Scrunch petal, Bo Bunny flowers, Bo Bunny bling.
Other supplies: stencils, distress ink, stickles, pearls, lace.

The cutie pie in this picture is Debbie's adorable granddaughter. Ooh, how do I love the way Luzma scrapped her! I really like the soft and girly colour combo that she choose for this layout and that flower made out of pink ruffle wraps is so pretty too.
Mousy
Supplies used: Crazy Love collection: Stripe, Dot, Fudge, Kisses, 12"x12" Chipboard, Rub-on, Pink Rose Wraps, jewels, Layered Chipboard Stickers, Dimensional Stickers, Pink Parfait Petals, Brads, Double Dot Chiffon Dot.

Debbie was given Sandra's gorgeous heritage photo to scrap with and she did such wonderful work with it. By colouring a few details of the picture, it matched the Olivia collection just perfectly.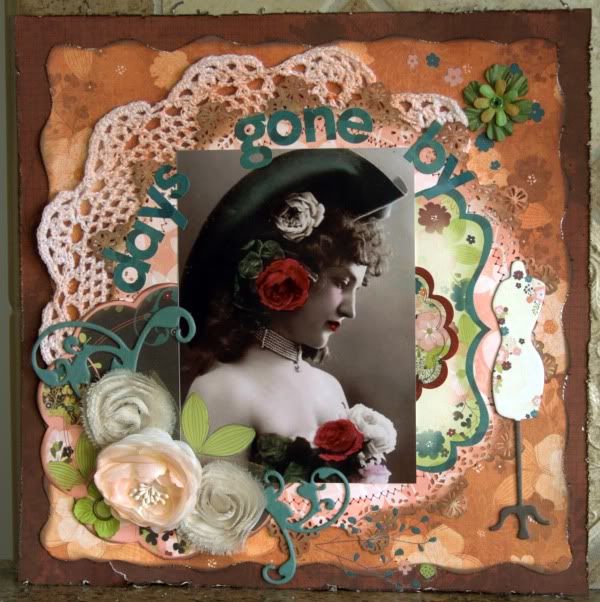 Days gone by
Supplies used: Olivia collection: Nectar, Cashmee, Dot, Noteworthy, Chiffon Rose Trim, Chipboard, Combo Sticker, Cream Gardenia Petal, Rub-ons, Icandy Brads.
Other supplies: glimmer mist, photo safe pens, brown ink, doily, corner punch, flowers.
Designer Tips: I changed the colours of the flowers with photo pens, so they would match the paper better. They were originally pink.
Sandra made a gorgeous layout with Samantha's summer picture. It is so beautiful how she continued the beach theme in her whole design by using a few seashells.
by Sandra Rupp
Supplies used: Mignight Frost Ice, Midnight Frost Cut Outs, Midnight Frost 12"x12" Chipboard, Midnight Frost Brads, Double Dot Slate Dot.

I hope you enjoyed seeing all these fabulous creations. Last but definitely not least is Samantha's layout. She definitely did Kathleen's beautiful picture justice by making such a gorgeous layout to go with it. I love the different tones of blue that she used on her page.
Perfect moment
Supplies used: Midnight Frost, Midnight Frost Snowfall, Midnight Frost Stripe, Midnight Frost Flurry, Double Dot Powder Blue Dot, Cambridge Combo Stickers, Petal Pushers 12"x12" Chipboard, Midnight Frost Brads, Chunky Charms Clear Arrows and Circles.
Other supplies: Pink Paislee alphabet, Fabscraps flowers, bling and sealing board tape.