Do you love cinnamon, nutmeg and cloves?
How about ginger or allspice?
If you love all things spicy, you will just fall in love with all of the papers, cardstock stickers and coordinating embellishments that make up one of my favorite BoBunny Collections: Kitchen Spice!
What do you get when you mix
Sugar (the sweet gals on the BoBunny Design Team)
with Spice (the delicious Kitchen Spice Collection)?
Why...everything nice, of course!
Here is the recipe for these amazing, mouth-watering projects:
Combine the BoBunny Kitchen Spice Collection with a dash of creativity and a scoop of these wonderful ideas by Rita, Carole, Patti, Julia and Christine to create some YUMMINESS of your very own.
Designer Note: I'm a menu planner and my family is obsessed with knowing "what's for dinner" so this mini menu planning board was just the thing I needed to keep things organized. Start by writing a week's worth of recipes on each Recipe Card Cut Out. I wrote out 6 as well as a handful of desserts ideas too. Then simply interchange the cards as needed.
Supplies: Bo Bunny- Kitchen Spice patterned paper: Cinnamon, Nutmeg, Cloves, Sesame, Allspice, Rosemary; Kitchen Spice Recipe Cards Cut Outs; Kitchen Spice Combo Stickers; Touch of Spice iCandy Jewels; Kitchen Spice Buttons & Bling; Clearly Stamps What U Got Cookin'Other: Mini cork board from craft store.
Title: Let's Get Together for Dessert
Designer: Christine Ousley
Supplies: Kitchen Spice Cloves, Ginger, Nutmeg, Rosemary and Sesame papers, Chocolate Double Dot Cardstock; Kitchen Spice recipe card cutouts, Kitchen Spice Combo Stickers, Touch of Spice iCandy Jewels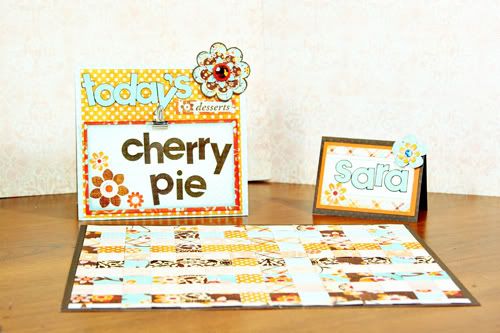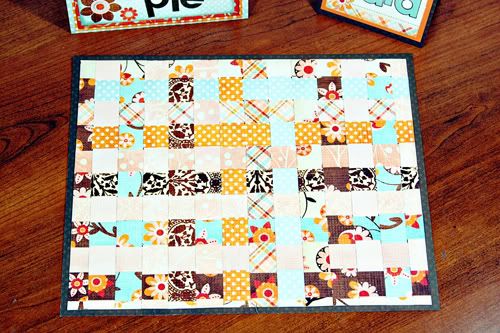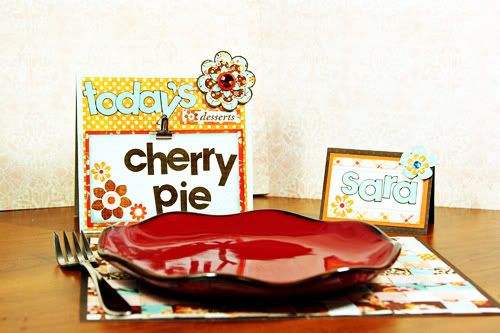 Title: Kitchen Spice Gift Ensemble
Designer: Rita Shimniok
Supplies: Recipe Easel: Kitchen Spice Cloves, Allspice, Kitchen Spice, Cinnamon, Sesame papers, Chiffon and Chocolate Dot Double Cardstock; Kitchen Spice recipe card cutouts, Lovin' from the Oven cardstock stickers, Kitchen Spice flowers, Combo Stickers, Buttons and Bling, What U Got Cookin' acrylic stamp, Sunburst stamp, Bohemian Borders rub-onOven Mitt Envelope: Kitchen Spice Cinnamon, Nutmeg, Ginger, Decaf Double Dot cardstock, Recipe Card Cut Outs, Button, Harvest 3/8" ribbon,; Gypsy Heart & Homey Cardstock StickerCandle: Kitchen Spice Ginger Paper, Decaf Double Dot Cardstock, 5/8" Harvest Ribbon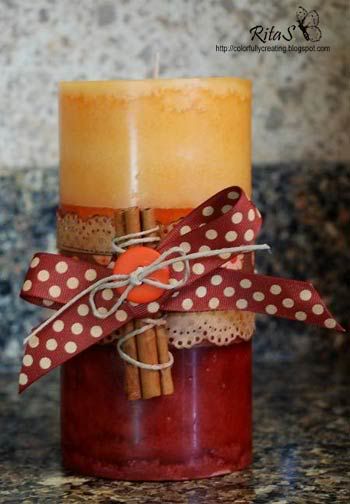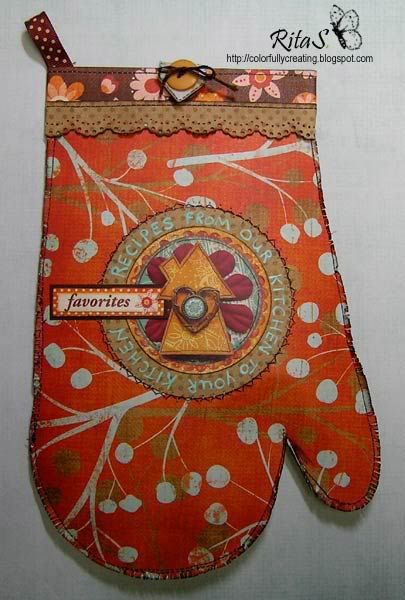 Title: What's Cookin' Home Cookin' Sign
Designer: Carole Janson
Designer Tip: Create your own background shape with chipboard for something different, as well as your main elements such as the house and the heart.
Supplies :Kitchen Spice Pattern PaperKitchen Spice Nutmeg Pattern PaperKitchen Spice Rosemary Pattern PaperKitchen Spice Combo StickersLovin' From The Oven Cardstock StickersKitchen Spice Buttons & BlingChunky Chip Chocolate Alphabet5/8" Double Dot Aquamarine Ribbon


Title: Beauty
Designer: Julia Sandvoss
Supplies: Kitchen Spice Cloves, Kitchen Spice Collection, Kitchen Spice Ginger, Kitchen Spice All Spice, Kitchen Spice Buttons & Bling, Kitchen Spice Flowers, Kitchen Spice iCandy Brads Vanilla Bean, Chunky Chip Alphabet Chocolate, Chunky Chip Swirls & Brackets Chiffon
Title: Yum..My Sand Pie
Designer: Julia Sandvoss
Supplies: Kitchen Spice Cinnamon, Kitchen Spice All Spice, Kitchen Spice Sesame, Kitchen Spice Combo Stickers, Kitchen Spice Recipe Cards Cut Outs, Kitchen Spice Buttons & Bling, Kitchen Spice iCandy Brads Vanilla Bean, Double Dot Ribbon Orange Citrus, Double Dot Cardstock, Chunky Chips Chipboard Alphabet Chiffon


Of course, we would love to see what you guys do with BoBunny Kitchen Spice (and this easy recipe!) Please feel free to leave a comment and a link to YOUR yumminess (or just a comment will do!) (I'm pretty sure Julia will be looking through all your posts when she comes back from ScrapFest...and put all the names into a drawing for goodies!!)