It's a Layout Challenge Friday! Don't you just LOVE a great sketch? Pull out your favorite Bo Bunny Collection and play along with us!
The Sketch this week was made by our very own, very talented
Bo Bunny Designer Frances Sylvia!
Of course, we have to share some inspiration from our Design Team. Let's take a Look!
Supplies Used:
Zoology 6 X 6 Paper Pad, Zoology Stripe, Zoology Combo Stickers, Zoology 12" Chipboard, Zoology Layer Chipboard, Zoology Brads, and Zoology Noteworthy.
Notice how Irene used the circle die-cut instead of the squares along the bottom and be sure to take a peek at all the techniques!

Supplies Used:
Barefoot Beach Bag, Barefoot Dot, Ocean Flourish Dot
Backyard Bliss CS Sticker, Barefoot Noteworthy, Barefoot Layered Chipboard, Barefoot Clear Stamps, Barefoot brads, Barefoot Combo Stickers, Double Dot ribbon
Look at all that stitching and be sure to take a closer look at the title work, too!
Supplies: Bo Bunny Barefoot Bubbles, Bo Bunny Barefoot Snorkel, Bo Bunny Barefoot Cut outs, Bo Bunny Barefoot Word, Bo Bunny Barefoot Combo Stickers, Bo Bunny Barefoot Layered Chipboard, Bo Bunny Barefoot Brads
Look at the way Carin layered the rub-on and stickers over her pictures! What a great look!
Supplies used:
Barefoot & Bliss Barefoot Splash, Barefoot & Bliss Clear Stamps, Barefoot & Bliss Dimensional Stickers, Barefoot & Bliss Rub-ons, Barefoot & Bliss Layered Chipboard, Barefoot & Bliss Noteworthy, Barefoot & Bliss 6x6 Paper Pad, Double Dot Buttercup Dot, Double Dot Brilliant Blue Dot
Mireille showed us how versitile this collection can be! Look how perfectly the quotes fit her pictures of her son and his friend recent visit Thomas Event.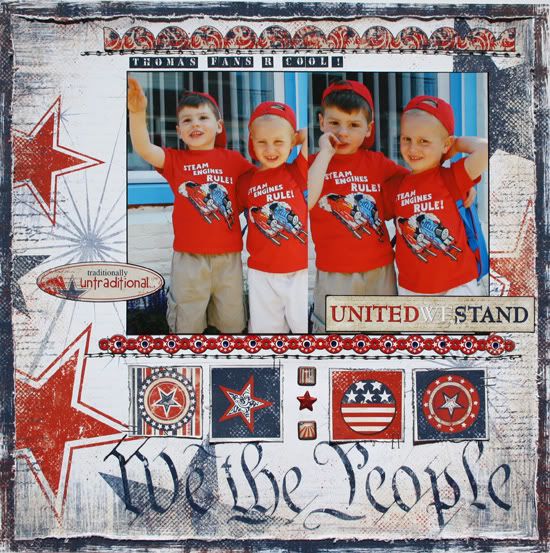 Supplies Used:
Bo Bunny Liberty Paper: Liberty dot, Liberty sparkler, Liberty Cut outs
LibertyCombo Stickers, Liberty Brads, Liberty Jewels
Bo Bunny Stapler and Staples
Link your layout here by June 22 and you could win a Bo Bunny Prize! We can't wait to see what your interpretation of the sketch looks like!
And... we can't forget the winner of our last layout challenge!
The winner of the challenge is: Natalie
Natalie was inspired by her daughter's favorite shirt.

Congratulations Natalie!
Please email us at thebobunnyblog@gmail.com to claim your prize!
Have a wonderful weekend!!