Today, the design team has done some projects to show you how to use your stamps. Bo Bunny has some TERRIFIC stamps available! Each collection has matching stamps to perfectly coordinate with it.
Stamps are such a perfect accent because you can use them over and over again!
Romy Veul
Romy used the Ambrosia Collection with the coordinated Ambrosia Stamps for this beautiful layout.
Bo Bunny supplies:
Patterned paper: Bouquet, Flowers, Lily, Primrose, Roses, Trellis/ Ambrosia
6x6 Paper Pad: Ambrosia
Chipboard: Ambrosia 12x12 Chipboard, Ambrosia 12x12 Layered Chipboard
Stickers: Ambrosia Combo Sticker, Ambrosia Dimensional Stickers
Stamps: Ambrosia
Card Kit: Ambrosia
Next up, we have Debbie.
Debbie Sherman
Debbie shows us how the same collection and stamps can be the perfect combination for cards, too!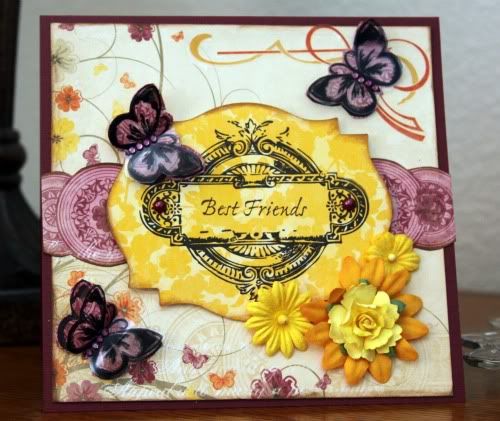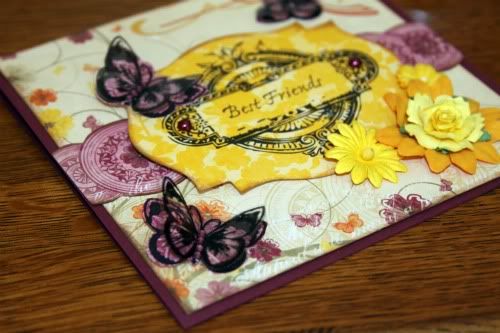 Supplies Used:
Bo Bunny Ambrosia Collection
Bo Bunny Ambrosia Patterned paper Primrose
Bo Bunny Ambrosia 6x6 Paper Pad
Bo Bunny Ambrosia Stamps
Bo Bunny Ambrosia Jewels
Bo Bunny Ambrosia Rub Ons
Carin McDonough
Carin and Debbie were on the same wavelength for this post. It is great that they both used the same collection to make a card and showed us how different they can look.
Supplies Used :
Cardstock : Passion Fruit, Island Mist, Orange Citrus/Vintage Double Dot.
Stamps: Ambrosia; Country Garden; Enchanted
Ribbon : Aquamarine Double Dot
PSA Stamp Giveaway!
We also want to tell you about our friends at PSA Essentials. PSA Essentials manufactures personalized stamps with interchangeable designs! Stamp the back of your cards, layouts or project creations with personalized stamps like "hand crafted by", "made especially for you by" - the sky is the limit. See all of their crafty personalized stamps here
Be sure to check out the PSA Stamp Camp blog today to see FABULOUS BoBunny projects!
AND, we're giving away FOUR PSA Personalized Stamps! Click here to follow their blog for a chance to win!
Also check out their website and facebook too!
We would love to see what you are doing with Bo Bunny Stamps!
Please share your creations with us on Facebook. We love seeing what you are up to!