Today, Ilene and Kaori are sharing with us some layouts they created using some of the BoBunny Stamps. BoBunny recently released several new stamp designs as part of their
Essentials Collection
. Some of these coordinate with their new collections, but all of them are very versatile as you will see in the layouts below.
LOOK WITHIN by
Ilene Tell
"The Avenues collection was just perfect for this picture of my son being so fascinated by the nook in the tree. The doors and windows and keyholes theme of the paper worked well with the photo and the title of my layout. The only thing that wasn't perfect was that I needed a wood grain pattern - and here is where the wood grain stamp comes in. It added the perfect touch to finish off this layout!"

DESIGNER TIP: If you want to add a texture stamp somewhere on the layout, and have it fade out toward the center, simply add ink to the stamp and then use your finger to tap the edge and smudge the ink - as a result, you will get a "fade-out" effect.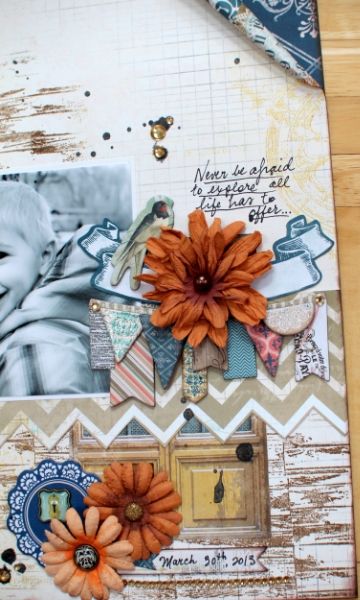 BOBUNNY SUPPLIES:
Patterned Paper: The Avenues, Courtyard, Doors, Stripe/ The Avenues
Stickers: The Avenues Combo Sticker; Autumn Song Dimensional Noteworthy: The Avenues
Brads: The Avenues
Jewels: The Avenues
Chipboard: The Avenues 12 x 12; The Avenues Layered Chipboard
Stamps: Wall to Wall Textures Stamp
Blossoms: Harvest Orange Daisy
LOVE AUTUMN by
Kaori Fujimoto
"It tends to be difficult to make a stained texture by yourself, and it tends to go wrong. But you can achieve this look easily with the Stained Textures stamp. The Curly Q Stamps are very versatile because of the different sizes and shapes that are part of this set. With the Autumn Song Stamp Set, I adhered a jewel to the center of the stamped image. By placing these in opposite corners, I achieved a nice, balanced design."

DESIGNER TIP: I did the stamp in piles, without attaching ink, after applying the stamp first.
A deep pattern, an overlap and a three dimensional effect is then achieved.
BOBUNNY SUPPLIES:
Patterned Paper: Autumn Song, Autumn Song Dot, Autumn Song Duet, Autumn Song Leaves, Autumn Song Notes, Autumn Song Stripe, Autumn Song Sunflower, Autumn Song Twilight, / Autumn Song
Stickers: Autumn Song Dimensional Stickers
Brads: Autumn Song
Jewels: Autumn Song
Chipboard: Autumn Song 12x12 Chipboard
Noteworthy: Autumn Song
Trinkets: Autumn Song
Jewels: Autumn Song
Stamps: Autumn Song Stamps, New Curly Q Stamps, Stained Textures Stamp, Wall to Wall Textures Stamp
Blossoms: Clover Bouquet, Harvest Orange

How have you used BoBunny's Stamps? We would love to see them!